Wednesday Apr 14, 2021
Time: 07:30 pm - 08:30 pm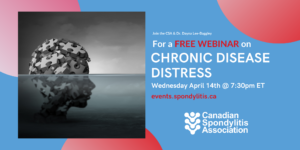 Join the Canadian Spondylitis Association & Dr. Dayna Lee-Baggley (Ph.D., R. Psych – Registered Clinical Psychologist) for a free webinar on Chronic Disease Distress (depression, anxiety stress)
Chronic disease distress is common following a chronic disease diagnosis. Over 55% of people who responded to our quality of life survey (2020) identified depression and anxiety as the second most common complication experienced; pain being the most frequent. We also learned there is a direct connection between pain, depression and anxiety. Mental health disorders are medical conditions that disrupt a person's thinking, feeling, mood, ability to relate to others and daily functioning. They are medical conditions that often result in a reduced ability to cope with the routine daily activities such as going to work or raising a family. Just like chronic diseases, mental health disorders are treatable and are important to manage.
Topics:
What is chronic disease distress?
What are the interrelationships among physical and emotional symptoms including fatigue, depression and anxiety?
What's the role of self-management, emotional coping, and health lifestyles (including exercise and diet) to help people thrive?
What has the impact of COVID=19 been on mental health and on chronic disease?
What are evidence based tips on coping with chronic disease during COVID-19?
Ask your questions!
Register Here: https://chronic-disease-distress.eventbrite.ca
Have a topic you'd be interested in hearing about? Email info@spondylitis.ca with your ideas.